Deeply Divided & Headed in Opposite Directions
by Linda P. Prince
It is the most amazing thing! I've never seen anything like it. We are witnessing two cultural shifts within months and they are massive. It is like two trains are momentarily in the station and people are pouring off one train onto the other.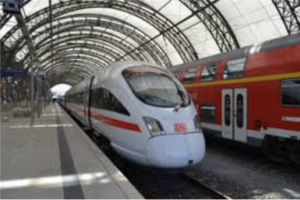 Those who manage the train station are the influencers. They include the media, universities, government, churches, parents. For decades these institutions have been successful at keeping people in their assigned seats. But something odd is happening. People are suppose to stay in their assigned car and assigned seat and think like the people around them – as they've been told. For example, Gen Z goes here, White women in the suburbs sit there, Black Americans here, Hispanics up there, poor on this side, etc.
One train is dark and the other is bright. The dark train has lots of announcements to keep people comfortable. There are TV's in each car. "Smart" phones for everyone. They blare what is called news, "targeted" to the various seating groups. They also stream what is known as desensitization to gradually introduce people to where they are headed, to get them to accept it. Movies and TV shows are imbued with it. Such that, people accept it one tiny click of the rail at a time.
The first culture shift began happening in late May. Due to some rocking on the dark train and a few out of the way, unplanned, stops, the informal leaders started doing something my mother would describe as, "They really showed themselves!" It's not that what they did was new. It's been there all along but they got a bit too brazen.
It's one of those group things. One person does something to get attention and then another needs to be more bazaar to up that one. It all fit with their view of what is good — but lots of people on the train were uncomfortable with their behavior. It was just too much too soon. Had they kept the rhythm of gradual, progressive revelation and the slow indoctrination – one could go back to sleep and just listen to the click, click, click of the rails and not worry about where the train is headed.
The second shift happened when some people on the dark train started asking questions, like, "Where exactly are we going?" The most common answer was, "Utopia. You are going to love it." The rest of the conversations went something like this:
"Yeah man. In utopia there is no guilt."
"No quilt? How's that?"
"Yeah – all that right and wrong stuff is just a social construct. We eliminate it and we are free man."
"No right and wrong?"
"There is wrong, wrong – like oil companies. They are evil and religious people are evil. Yeah, they are evil. And history is evil. But we are going to rebuild."
"Rebuild what?"
"Everything man. It's all bad and has to come down."
"Why? What's the goal?"
"Hey man, you racist? homophobe?! We gotta be fair. Make everyone equal. Give everyone the same stuff."
Next thing you know, notes start passing back and forth between trains. Everybody knows someone on the other train. Then little huddles start happening on the dark train. A few like minded people find each other and start to whisper.
"Do you see what's going on?"
"Yeah, you?"
"They say we're going to utopia where everybody has everything and lives in harmony."
       "Don't tell them but if this is a taste of utopia – I'm not sure…."
"I heard from a friend things are different on the other train. Way different."
"Yeah, I'm told they have different rules."
"Like what?"
"Well lying is still wrong and people are polite and I'm told you can say whatever you're thinking. You know, get it out there to see if it sounds stupid. Oh and logic. I'm told they're really into zooming out and looking at things from a long lens."
"What do you mean?"
"You know. Like if you do this then that happens and then that causes this…."
"Really? Sounds like my grandparents. Has your friend sent any pictures?"
"Yeah, looks amazing. People on that train wear lots of colors and their clothes
look clean and pressed."
"We used to have people like that on this train. You know the ones, who smile and stuff."
"Yeah, but I see them getting off and changing trains and people on the bright train cheer when they get on."
"Certainly no cheering here – well, yeah sometimes but it seems more like a snicker, like it comes from some dark place. Like they're happy when something bad happens to the people on the other train."
___________________________________________________________
So what defines the trains? The differences are deep, they reach the very core of who we are and what we believe. On one train, there is a God who created everything and gave us a handbook, like the instruction manual. The rules on the bright train come from that book. Some on the train have never even seen the book but still have a sense of right and wrong, good and bad, even ugly and beautiful. The three intrinsics of truth, goodness and beauty are quite different on the two trains and in many cases exact opposites.
       In fact, both trains use some of the same language but the words have opposite meanings. Take the word truth for example. On the dark train, one is to be true to themselves. In fact the preferred word is, "authentic." They will speak their truth based on experiences and feelings. On the bright train, truth is an absolute. It either happened or it didn't. Up is up, down is down.
Both trains have a sense of degrees of evil. In fact, someone on the dark train even re-wrote Dante's degrees of hell. It has been modernized such that the deepest hell is reserved for oil company executives. Though the modern version changes fairly often. This month the deepest hell is reserved for white supremacists.
On the bright train, the deepest hell is reserved for anyone who would hurt a baby or a child or an older person. They're all about the little guy. Yet, the other train, the dark one talks about it more. "For the children," was one of the slogans on the dark train a few years back. Now it is "black lives matter." Slogans really matter on the dark train but not the check book. On the bright train, you are told to, "Put your money where your mouth is." Actually, people on the bright train, for the most part, are all check book and time investment and no mouth. They do things for the children and to help fellow black lives, especially young ones but don't talk about it. They are generally very modest about the good things they do. But then again, that's in the rule book. You're taught not to talk about it. In fact, the most honest people I know – never say, "I speak truth." It is, well, a given. No need to talk about it.
There are some people who are on the dark train because they feel sorry for the people on the train and want to show they care. They have developed an eleventh commandment. It's not in the instruction book but it is their highest value. It is "be nice." So they stayed on or got on the dark train to "be nice," or because of one of the catchy slogans, like "love is love." Oh and, they want the two trains to get along, to unite.
       Still, if you're going to San Francisco and I'm going to Miami – we can't ride together. The two trains will never just "get along."
In the words of Dr. Kenneth Boa:
Never before in the history of humankind has there been a society without a collective moral consensus. It may be debatable as to how well they lived up to it but every society… has had a collective understanding of the three transcendentals of truth, goodness and beauty.
      We are a society that is divided at the deepest level. We can't just unite. The trains are headed in two very different directions. It comes down to how you define truth, what you see as goodness and even what is beautiful.
The dark train is going to crash and burn. In fact several fires have already started on the train. An announcement went out saying not to worry, some burning is necessary in order to rebuild. So most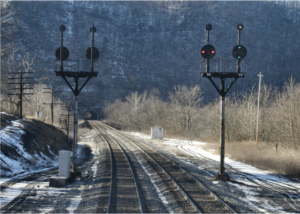 people cheered those setting the fires.
The dark train will crash. The question is whether or not the bright train can get most people on board and get out of the way in time. With enough momentum, the dark train will take out both trains. Frankly, chaos and destruction are the objective, not just a means to the utopian end.
Are you on the right train? They are headed in different directions. Destination matters – choose your train wisely.
.